Lockout happens every day. In fact, as you read this, someone is probably standing somewhere locked out of a car or building, making them late to an appointment and probably panicking as they try to figure out how to get inside. As in any emergency situation, the most important thing to remember is to not panic, which is so much easier in theory than smack dab in the middle of an emergency situation. Of course, you may have a spare key somewhere. However, getting to it isn't always an option. Calm down, and think clearly about what your next step should be.  
Take these steps and prepared before you will need a lockout Service:

Always have a copy of your most important keys. Store them in a location that is easy for you to access yet out of the reach of potential crooks.
Keep a spare house key in your vehicle, and keep a spare vehicle key in your house.
Give a spare key to someone you trust, such as a neighbor, relative, or close friend, and who is prepared to get the key to you in an emergency lockout situation.
Hide a spare key in an unsuspecting location. Don't hide your keys in an obvious place. Don't discuss it with others within hearing of strangers or on social media. Avoid the proverbial "key under the doormat" scenario. Be more creative than that. Select places such as underneath a dog house, since burglars notoriously will avoid dogs at all cost, or hide it inside a weatherproof container buried underneath a section of mulch on the landscaping or inside a patio furniture cushion.
Consider wearing a spare key as a piece of jewelry, like looping one onto a necklace chain or bracelet. Of course, the electronic key fobs don't work as well for this solution.
Electronic key fob users need to occasionally use the manual key to open the door just to make sure it is working properly. If the key is working manually, you can rest assured that if your key fob battery goes bad or something goes wrong electronically you will still be able to use the manual key.
When you do find yourself locked out of a home, office or vehicle, and it's an emergency situation which demands immediate action, consider your options.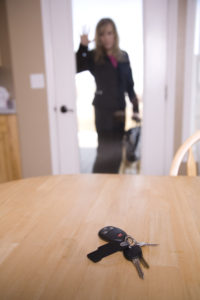 The first option – Calling a professional locksmith that specializes in any lockout services. 
The second option – is to check to see if there is another way of entry. Some cars only lock the driver's side which means a passenger door or hatchback may be open to allow you to get inside and retrieve your keys. On a house or office, there may be a back door or even a window open to allow for entry.
To complicate matters, many cars today start only with a programmed transponder key or have a key built into an intricate electronic system that is programmed only for your specific vehicle.
Did you try all the options and none of them worked? It's time to call in the reinforcements of locksmith Atlanta! we will conveniently and quickly come to where you and will get you back inside. Don't waste your time and money! 
In Locksmith Atlanta We know how frustrating is for you to be locked out. We will do everything to get you back into your house, car or office as soon as possible. Locksmith Atlanta is ready to assist your lockout Atlanta situation now! With our locksmith technicians standing by and ready to serve you with any lockout Atlanta service. Call now for fast 24-hour lockout Atlanta service!
Need A Lockout Atlanta Service? Call Locksmith Atlanta Now (678) 942-6714