Car Lockout 
Probably the first thing that comes to mind when someone mentions a locksmith is a car lockout situation. It's never fun when you realize your keys are inside the vehicle, and you are stranded outside a locked car. How you handle the situation will determine how quickly you get back on the road and out of potential danger. There are a few common circumstances that lead up to a car lockout.
Losing your keys at home or work – As simple as this sounds, it happens all of the time. You set the keys down in an unusual spot and think to yourself that you will remember where you set them, or you're in a hurry with groceries or computer bag in hand and drop them. Perhaps, you rushed in the door just in time to meet an unexpected client, set your keys down to focus on the business at hand and later forget where you placed them. You don't realize that they are not where they should be until you go to leave and cannot find them.
Locked Out? Call Locksmith Atlanta (678) 942-6714
Breaking your key in the ignition – You casually insert the key like you always do, and suddenly you hear a "Snap!" Oh no! You have the key, but it's not either starting or turning off the engine.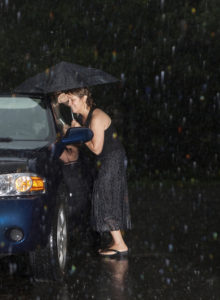 Locked Keys In The Car  – Just as simple as losing your keys at home or work sounds like something that could never possibly happen to someone who gives even half a thought to their daily routines, it's easier than you imagine to shut the car door and realize the keys are inside. Often, it's that pit-in-your-stomach feeling as soon as you hear the latch close. This usually happens when you are loading or unloading items from the car and set them down inside the trunk, or maybe you're out of routine, helping a child in and out of the car or distracted in some other way. This situation becomes of utmost emergency if you have also locked inside a child or a pet.

Locking your keys in the car with the engine still running – Worse than losing your keys or locking them in the car is when you not only locked your keys in the car, but the car is still running. At this point, every second count as your mind tally up the cost of gasoline being burned and the wear and tear on the engine idling with no one inside. 
Car Lockout Are A Common Problem
Whatever the cause of your car lockout, you are now in need of help. You need to regain access to your keys to get back on the road again in no time.
First, check to see if you have a spare key. If you do have a spare or have left an extra key with someone you trust you are in luck. If not, you will still need to figure out a way to get inside your locked car. Most current model cars automatically lock every door at the same time. There are some older model cars where only the driver's door locks, leaving the passenger doors unlocked and accessible. If neither of these options works for you, it's time to ask for professional car locksmith Atlanta help. While you wait for help, look for a safe location to wait while keeping an eye on your vehicle. Call Locksmith Atlanta now at (678) 942-6714 for FAST car lockout Atlanta!
Check out our DIY tips for keys Locked In The Car 
Call a trusted locksmith Atlanta who knows how to handle any car lockout Atlanta situation!